While working on an article about an upcoming Algonquin music event, I learned of another piece of music news worth sharing.
Jazz Evening – March 1
On the Tuesday after the break, Algonquin will hold its annual Jazz Night. The program brings high school jazz musicians together with jazz groups from Trottier and Melican colleges.
As usual, they will feature a guest artist. This year, trombonist George Murphy will work with the students. Murphy is the leader of Horns in the House.
You can get a glimpse of Murphy's talent and ability to jam with students through the video below. According to Foxborough Cable Access, when he retired from teaching at Foxborough in 2014, he was invited on stage for the FHS Jazz Festival:
Participation in the event is free for members of the Northboro Southborough Music Association. For the general public, the cost is $5 per adult and $3/child/senior.
All State Music Festivals – March 5
Today, Gonk.Arts posted news about another trombonist, plus two singers and a violist: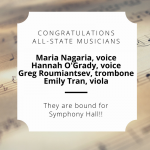 Congratulations to these students, who were selected after a lengthy audition process, to participate in the 2022 All-State Music Festival. These students will attend a rehearsal day on Wednesday, March 2 and perform alongside other incredible musicians from across Massachusetts at a concert at Symphony Hall on March 5. Well done!
The students are Maria Nagaria (voice), Hannah O'Grady (voice), Greg Rouniantsev (trombone) and Emil Tran (viola).